Commonwealth Chorale Appoints Michael Driscoll Artistic Director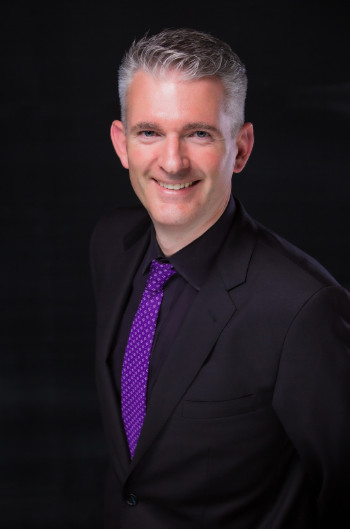 NEWTON, MA – Commonwealth Chorale announces the appointment of Dr. Michael Driscoll as its next Artistic Director beginning with the 2022 – 2023 season. Driscoll assumes the position following the retirement of David Carrier who led the group for forty-three years.
"The Board chose Dr. Driscoll from a field of highly accomplished candidates," says Carol Abrahams, President of Commonwealth Chorale. "Dr. Driscoll's depth of experience with groups similar to Commonwealth Chorale, his record of improving and growing the groups he has led, and his record of innovative and diverse programing were very compelling. We are thrilled to have him support Commonwealth Chorale's goals of presenting exceptional repertoire, building chorus and audience, and diversifying both our programing and our membership." "I am excited to begin working with Commonwealth Chorale," says Driscoll. "I remember attending one of their performances twenty years ago when I first moved to Boston and I was impressed with the quality of their performance. I look forward to carrying on the excellent work of David Carrier and the talented singers of Commonwealth Chorale."
Dr. Driscoll has previously been Music Director of the Andover Choral Society and the Boston Saengerfest Men's Chorus. He has also served as Lead Musicianship Teacher for the Handel and Haydn Society's youth choruses' program. He has been Director of Choirs and a music teacher at Brookline High School since 2003. He earned a doctoral degree in choral conducting from Boston University where he studied with Ann Howard Jones and David Hoose. He earned a Masters degree in choral conducting from New England Conservatory where he studied with Simon Carrington.
Driscoll's interest in greater diversity of repertoire was recognized nationally with the winning of The American Prize's 2020 Ernst Bacon Memorial Award for the premiere performance of Abraham Lincoln Walks at Midnight by Florence Price (1887 – 1953). Ms. Price was the first African-American woman to be recognized as a symphonic composer. Dr. Driscoll is also well versed in music from earlier periods, as is evident from his doctoral dissertation on the Baroque composer Jan Dismas Zelenka's 'Dixit Dominus' Settings Within the Context of the Dresden Hofkapelle; his dissertation was awarded the American Choral Directors Association's 2016 Julius Herford Dissertation Prize.
Dr. Driscoll and Commonwealth Chorale will join forces in providing musical experiences that engage audience and singers alike. The 2022 – 2023 season program, offering something for everyone and several Chorale premieres, will be announced at the end of July.
ABOUT COMMONWEALTH CHORALE
Commonwealth Chorale is an 80-member auditioned chorus of experienced singers from the metropolitan Boston area. Commonwealth Chorale is committed to performing the finest classical music from all periods and from a wide cross-section of composers. Past performances have included Amy Beach's Grand Mass in E-flat Major, Handel's Israel in Egypt, Haydn's The Creation, Vaughan Williams's Sea Symphony, Rachmaninoff's All-Night Vigil, and Bloch's Sacred Service. Recent collaborations have included the Metropolitan Chorale and the New England Philharmonic.
Commonwealth Chorale annually presents a 'Commonwealth Composer' concert that highlights the music of a composer with ties to the Commonwealth of Massachusetts. Past Commonwealth Composer concerts have included works by Carson Cooman, Randall Thompson, Amy Beach, Daniel Pinkham, and Charles Tarver. Commonwealth Chorale has also commissioned and premiered many works, including Carson Cooman's As We are Changed, Patricia Van Ness' Nocturnes, Alan Fletcher's That Hour of Gentleness, and James Woodman's Narcissus.