Sing with us!
Rehearsals
Commonwealth Chorale rehearses most Tuesday nights (7:30pm – 10:00pm) between early September and May, plus our dress rehearsal and concert schedule. We meet at Eliot Church in Newton Corner. Ample, free parking is available on the street. A number of buses, including the 57 bus, stop a short walk from the church. Concerts for the 2022-2023 season will be at Church of the Holy Name in West Roxbury.
---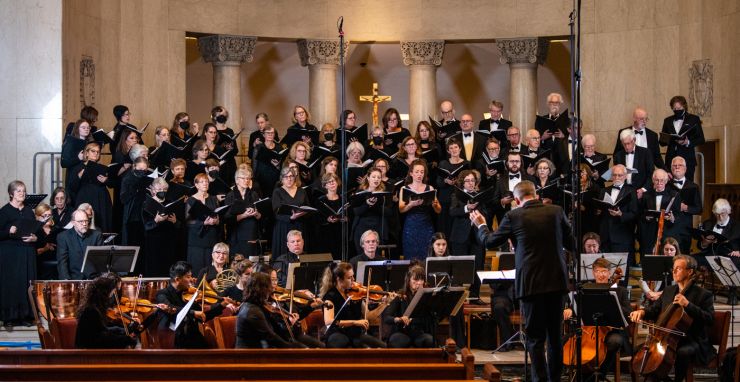 Our 2022–2023 Season
Our 2022-2023 season will include concerts in November, March and May. The November concert features the works of Mozart (Coronation Mass and Regina Coeli), plus a major work by composer, pianist, and singer Marianna Martines, a contemporary of Mozart and Haydn. In March, we will perform Carol Barnett's The World Beloved:A Blue Grass Mass, accompanied by blue-grass ensemble Monroe Crossing, along with Shaker arrangements by Kevin Siegfried. Our season finishes with the Rutter Requiem and selections from the works of Florence Price. Ms. Price was the first African-American woman to be recognized as a symphonic composer. 
Auditions
For our 2022-2023 season, Commonwealth Chorale seeks choral singers of all voice types who have strong vocal and sight-reading skills. Commonwealth Chorale is a welcoming and inclusive community. Under new Artistic Director Michael Driscoll, the 2022-2023 season celebrates a diverse program of composers new and familiar, with all three programs featuring works by female composers. Auditions are in Aug/Sept, early January, and March 21 by appointment.
Auditions are approximately 15 minutes and will include:
Vocalizing (singing scales to assess your vocal range)
A short, piano-accompanied piece of your choice in any style (art song, aria, folk song, hymn, or a section of a classical choral work, etc.). Choose a piece that you know well and that shows your voice at its best. A pianist will be provided for you and you should bring a copy of your music for the pianist. The prepared piece does not need to be memorized.
Pitch matching exercises
Sight-singing
---
Why I Sing with Commonwealth Chorale
2023 Audition Dates​​
Check this web page in August for audition dates and times for late August and early September.

To ensure maximum safety, all auditionees are required to submit proof of full vaccination against COVID-19.
To set up an audition, please fill out this brief form and our membership chair will follow up with you. If you have questions, please email us or call 617-244-0878.