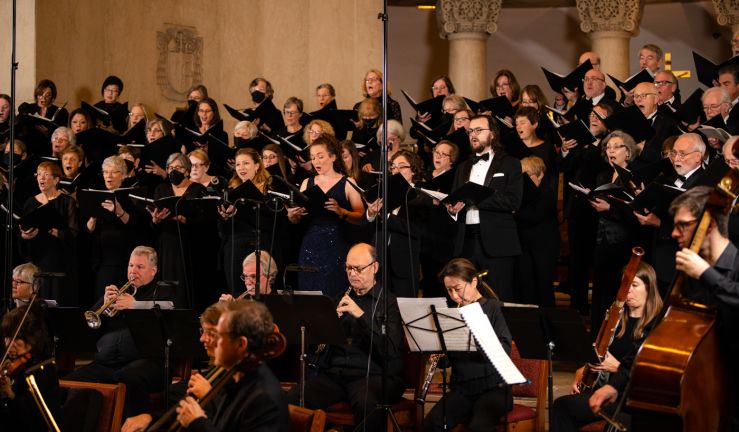 Your support matters.
Because ticket sales pay for only a small percentage of performing costs, Commonwealth Chorale's continued offering of fine choral works relies on contributions from generous supporters. If you feel strongly about maintaining the high quality of performances and the breadth and diversity of our the music-making that we are able to offer, please consider supporting Commonwealth Chorale. 
Give now.
Tickets only cover a modest fraction of concert costs. Help support Commonwealth Chorale with your tax-deductible donation. When you click on the "Donate" button, below, you will be redirected to a secure PayPal page to make your donation.  APayPal account is not required to make a donation. Thank you!

If you are seeking to make a donation by making an Amazon purchase through the  the Amazon Smile program, that program ended on January 31, 2023.
About Us
Commonwealth Chorale is an auditioned chorus that attracts experienced singers from the metropolitan Boston area. Led by Artistic Director Dr. Michael Driscoll, Commonwealth Chorale is committed to performing the finest classical music from all periods and from a diverse cross-section of composers. Each season, our programming includes a 'Commonwealth Composer' concert that highlights the music of a composer with ties to the Commonwealth of Massachusetts. 
Donor Levels
Choral Cornerstone: $5,000+
Director's Circle: $2,000-$4,999
Benefactor: $1,000-$1,999
Guarantor: $500-$999
Sponsor: $200-$499
Patron: $100-$199
Donor: $50-$99
Friend: $49 and under
If you have questions concerning your tax-deductible donation, please contact us at info@commonwealthchorale.com or by phone at 617-527-SING (7464).